Pain Relief
Neurostimulation and (Near-Infra)Redlight therapy
InterX™ therapy is a non-invasive interactive neurostimulation. It is a medical* technology for treating post-traumatic, chronic and neuropathic pain, injuries and for boosting the immune system. 
Red light is one of the most natural ways to stimulate your body's natural self-healing process. It is now used as a new form of therapy under the umbrella term Photobiomodulation (PBM).
NEUROSTIMULATION with InterX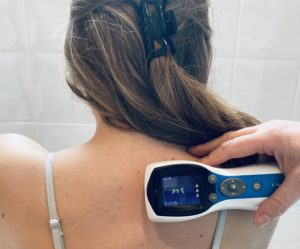 InterX therapy is based on the "Tibetan Tapping",  it's a form of neurostimulation to relieve acute and chronic pain. It has been clinically proven to be consistently effective in achieving faster active rehabilitation, with less pain and more ROM (range of movement). InterX works on nerve cells that are blocked. Via a feedback system, the device indicates where the problems are in the tissue. It stimulates the nerve cells, without blocking them, to return to their task, so the self-healing capacity of the body is reviving. This therapy triggers also our parasympathetic nervous system which results in less anxiety and less stress, a better digestion and a better sleep. 
Near-infraredlight & redlight with FlexBeam is a nice addition to this and provides extra boosts in the body.
NEAR-Infra & REDLIGHT with FLEXBEAM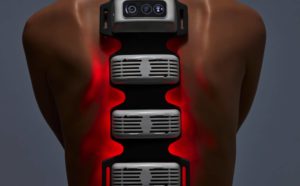 Red light & near-infrared therapy maintain health, hydration and oxygenation.
It is a perfect anti-aging for your body (skin elasticity & production of collagen), It increases your cellular level (mitochondria). It is also a QI generator (via acu-points) that prepares your body for better performance and better recuperation (stiffness).
Red light therapy and neurostimulation have a positive result in:
Pain relief

Reduce inflammation

Skin repairing

Revive Immunity

Regain Performance
Both InterX and Flexbeam can be used effectively as an independant therapy or in conjunction with other modalities. 
InterX and Flexbeam are also used to activate Acu-points. 
Testimonials of doctors and patients: go to "Pain Relief"
How many treatments are needed?
Each body responds different and deep-rooted issues may require multiple treatments. In most cases, more treatments are needed for chronic complaints (6 to 14) than for acute complaints. A few treatments may be sufficient for acute complaints. In almost all cases, you will experience immediate pain relief. The best results are achieved with 2 treatments per week.
I have been schooled by Dr Zulia Valeyeva-Frost (InterX Clinic, Cheltenham,UK) and by Amira Segal (Malamalomi, Amsterdam).
I use InterX & Flexbeam for your well-being.
More information at NEUROSTIMULATION and at RECHARGE HEALTH FLEXBEAM
Empower your body to heal itself and book your first session with InterX Pain Relief and Flexbeam.