Interactive Neurostimulation by InterX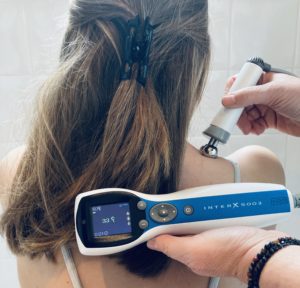 This therapy was originally designed to keep cosmonauts in peak health and has shown to be highly effective across a wide range of conditions, helping a broad spectrum of patients return to an active lifestyle. 
InterX™ therapy is a non-invasive interactive neurostimulation. It is a medical* technology for treating post-traumatic, chronic and neuropathic pain, injuries and promoting natural healing (study 1). InterX triggers our parasympathetic nervous system wich produces a calm and relaxed feeling in the mind and body: less anxiety, less stress, better digestion and a better sleep. Remarkable results have been proven by peer-review studies and in use by many hospitals and sport organisations world-wide.
How does it work?
The technology is based on ancient 'Tibetan tapping', but instead of tapping with fingers, the InterX uses electrical pulses at specific frequencies. It is safe, because the stimulation is very precise, at the exact place, with optimal intensity and time-dosed without over-stimulation. The stimulation is only limited to the skin (because of that, it can be used on hip/knee replacements). 
The InterX™'s ability to target specific areas of low impedance allows immediate access to highly effective treatment sites, enhancing the rate of recovery.  
INTERX FOR POST-TRAUMATIC, CHRONIC AND NEUROPATHIC PAIN TREATMENT
In general, InterX™ therapy promotes your own body's healing and provides sustained pain relief naturally, without side effects. 
InterX is effective for:
Reducing rehabilitation time from acute and chronic injuries

The management of post-surgical pain

Pain relief and the resulting increase in range of motion

Muscle relaxation, reducing muscle cramps and spasms

Enhancing neuromuscular re-education
Athletes use InterX to increase performance & recover faster:
One of the advantages of InterX is the variety of injuries and conditions this can treat. That's the reason why high profile athletes and professional sports clubs use the InterX™ device on a daily basis world-wide. And when it comes to recovery and rehabilitation, the results show that non-invasive interactive neurostimulation improves outcomes in athletes and a quicker return to sports. Read more
The treatment (study 2):
In general, to have a good result there is more than 1 treatment needed. Though, typically 30 minutes could be sufficient to provide a pain relief in the case of acute trauma. Treatments varies from one (acute trauma), up to six or more in case of chronic pain. InterX™ can be used effectively as an independent therapy or in conjunction with other modalities. InterX is also used to activate Acu-points. Do you also want a personal or professional InterX device at home or in your practice? Fill out the Contact form (Info/Contact)
Doctor testimonials
"I have been using InterX for over a year and have been very impressed with the results. I hope the device becomes more widely available and other doctors and therapists benefit from using InterX as an aid in the management of chronic musculoskeletal pain". Dr. Steve Motto – sports and musculoskeletal Physician, London Bridge Hospital, London.
"I was naturally skeptical, but I've used InterX for the past year and from the positive results I've seen, I now use it regularly as part of my treatment. InterX is being used more and more by my team, and we have definitely been converted." Kim Hobbs – Physiotherapist, Sports Dimensions Ltd, London
"InterX Technology is non-invasive, easy to use and get results". Dr. Gerhard Maale – Orthopedic Oncologist, Presbyterian Hospital, Dallas. 
Patient testimonials
Shoulder pain  https://www.interx.com/diagnosis/shoulder-paing/
CRPS/RSD Treatment  https://www.interx.com/diagnosis/crps-rsd-treatment/
Sacrum and Coccyx https://www.interx.com/diagnosis/sacrum-and-coccyx/
Disc Bulges  https://www.interx.com/diagnosis/disc-bulges/
Back pain after surgery https://www.interx.com/diagnosis/back-pain-after-surgery/
*CE & FDA certification as a PAIN MANAGEMENT device- ISO 13485 – Conform to the European Medical Device Directive (MDD)  InterX products have been safely and effectively used for treating thousands of people throughout the world.
Studies:
Scientific research to examine the physiological effects of InterX Therapy in humans: Changes in Lymphocyte Metabolism, Gene Expression and Cytokine production following Transdermal Interactive Neurostimulation: indicators of Connective Tissue Healing and Anti-inflammatory activity.  http://interxclinic.com/wp-content/uploads/2011/12/Blood-study.pdf
Non-invasive neuromodulation for the treatment of the most difficult pain conditions. https://www.practicalpainmanagement.com/treatments/interventional/stimulators/product-review-non-invasive-neuromodulation-treatment-most-dif